So I've been thinking...what kind of characters/narrators do you find yourself drawn to?
I really find myself drawn to the complicated, flawed, and somewhat unlikable characters, and I'm not sure why.
Parker in
Cracked Up To Be
? LOVED her. And I was truly baffled when I heard that people don't like Sam at the beginning of
Before I Fall
. What?!?! I connected with Sam from word one. And Remy from
This Lullaby
...oh man, that's a character I wish I would have written. I
adore
Remy. I want to be her bff.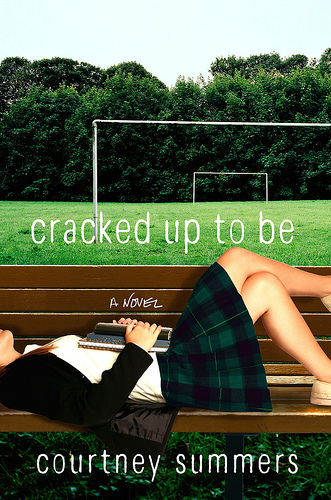 The super sweet characters in books are great, and, yeah, I like them, too. But not as much as the flawed ones. There's just something about these bitchy girls that gets me. I understand them, I guess. I get them in so many ways.
But then I think of Darcy in
Something Borrowed
and
Something Blue
by Emily Giffin. I
hated
Darcy. Hated. She was a bitchy character who was horrible from the first page of
Something Borrowed
to the last page of
Something Blue
. I felt like her "redemption" was totally contrived and I never once, not even for one second, felt for her. I wanted her out of my life, never to return. I only finished
Something Blue
because I was hoping for the unhappy ending I felt she deserved.
Why do I love some bitchy characters so much and hate others? What was I able to find in Parker and Sam and Remy that I couldn't find in Darcy? (Is it just because they are teens? That's a whole different blog post...)
I'm thinking about this because the narrator in my WIP...well, she's kind of a bitch. She's gotten less bitchy the more I've revised...she was downright horrid in the very first draft. But she does do some things that aren't very nice, and I still get comments from readers about making sure she doesn't get too unlikable.
Now...I get it. I do. I obviously want my readers to be able to connect with my narrator. So even if she is flawed in some major ways (which she is), she still needs to have
something
about her that people can relate to.
I was thinking I was getting closer to finding that balance in this round of revision, but then I got to this key scene...the one I was scared of the other day. I kept trying and trying to write it, but nothing was working. In fact, I was trying to get these characters to fight, and they wouldn't stop kissing! Nothing would get them to start getting mad at each other. Nothing...except changing it back to how it was written in the original draft. The super bitchy draft.
Well, now she's doing something kind of horrible. Because the nicer things just didn't work. Because it's just who she is. But now I'm worried. Is her bad behavior forgivable? Will people be able to connect with her? Is she a Parker? A Remy? A Sam? Or is she a Darcy?
So I wonder...what draws you to a flawed character? Do you like them like I do? How do you feel about the characters I mentioned? Who are some flawed characters you can give me for inspiration?