One thing you need to know about me...I have a ginger fetish. Guys with red hair? So hot. (This is super weird because my brother has red hair, but we won't really discuss that.)
Another thing I find super appealing? When a guy can bring the funny.
So throw those together, a funny redhead, and you pretty much have my kryptonite.
So is it any big surprise that one Mr. Ron Weasley is my favorite Harry Potter character? He has everything I'm looking for in a man. Red hair, a fantastic sense of humor, a kick-ass family, he's a little self-deprecating, he's good at sports, people listen to him, and he has awesome friends. What more could you ask for?
OH. And an English accent.
Now, I promise I wasn't thinking Ron was hot or anything when I started reading the books; I do realize he was only 11. I did think he was adorable, though, and he became my favorite character right away. Then as I went through the books and watched his struggle to find his own identity in the wake of his older brothers and his very famous best friend, well, my heart just ached for the kid. I've never really gone for the head quarterback / star of the show guy, I'm much more interested in the guy behind the guy, so my heat obviously lies with Ron.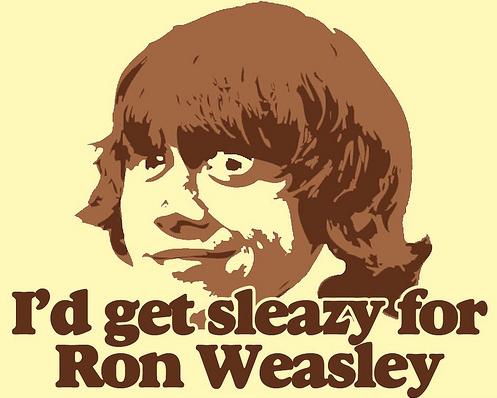 And, of course, part of the reason
Half-Blood Prince
is my favorite book is because good ol' Ron finally starts to get some play. And let's not even talk about all of the sad angst and Ron cuteness in
Deathly Hallows
. I die.
Then there is the lovely Rupert Grint. I swear, could they have found anyone more adorable to play Ron in the movies? I swear, this kid is too much for me to handle.
(Wow...he really looks like my brother in this picture. :-/ )
So, who is your favorite Harry Potter character? Does anyone love Ron like I do? (Not in an I'll Fight You For Him kind of way...more like a Sister Wives kind of way, right? Right)