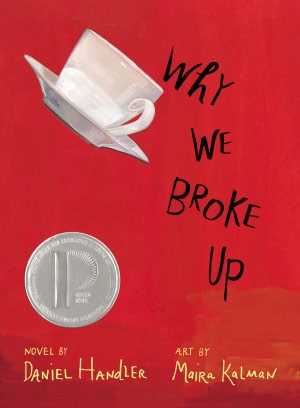 I'm telling you why we broke up, Ed. I'm writing it in this letter, the whole truth of why it happened.
Min Green and Ed Slaterton are breaking up, so Min is writing Ed a letter and giving him a box. Inside the box is why they broke up. Two bottle caps, a movie ticket, a folded note, a box of matches, a protractor, books, a toy truck, a pair of ugly earrings, a comb from a motel room, and every other item collected over the course of a giddy, intimate, heartbreaking relationship. Item after item is illustrated and accounted for, and then the box, like a girlfriend, will be dumped.
First of all, if you are going to read this book I highly encourage you to pick up the actual book and not the ebook or audio book. This book is absolutely gorgeous. It has thick, glossy pages and it's full of absolutely gorgeous illustrations of each of the items that Min puts in the breakup box for Ed. The act of reading this book is a total treat - the feel of those pages and the detail and texture of the art...these are not things you want to miss out on. I'm not anti ebook or audio at all, but this is a book you really need to experience in actual book format. You won't regret it.

Second of all, I don't know if this is a book for everyone.
Stylistically
, it's pretty different, and I can see how the writing style/Min's voice might get on your nerves if you aren't into it. I was so, so into it, though. I loved Min's stream-of-consciousness thoughts and page-long run-on sentences. I loved her constant classic film references and her honest look at herself and her feelings through the course of her relationship with Ed. This book is different, and while that might bug some people, I loved being lost in Min's head. (And, obviously, so did the Printz committee, since this was one of their Honor Book choices this year.)

This book is a long letter from ex-girlfriend to ex-boyfriend, but it's also a tender and honest look at a relationship between two very different people, and a glimpse into first love and first heartbreak. I loved the voice, I loved the humor, I loved the honesty and the reality, and I loved that gorgeous artwork. Reading this book was an experience, and it was very worthy of the Printz honor.
Check out what the other Bookanistas are up to today...