Tuesday: May I tell you something about myself?
If you've known me for more than five minutes you know that I love music. Well, I don't just love it...I'm completely obsessed. So when I saw this music survey over on Katy Upperman's blog, I knew I had to save it for one of these talk about myself days.
(Click on the links to listen to any of the songs via YouTube)
2. What is the most played song on your iTunes?
This isn't totally accurate because my play count has been reset like three different times, most recently about a year ago. So right now it is The Honest Truth by Typhoon. But I know that before that it was Play Crack The Sky by Brand New, which is one of my very favorite songs ever. (I haven't listened to it as much lately because it makes me Feel All The Feelings.)
3. What song are you listening to right now?
Well, right this very second I am now listening to Play Crack The Sky. But before that I was listening to Poison & Wine by The Civil Wars. (Another song that makes me Feel All The Feelings, but I can listen to it without breaking down, unlike Play Crack The Sky and Skinny Love. Uh, yeah...music has a big impact on me sometimes.)
4. What was the last album you bought?
The last album I was gifted was the new album from The Shins, Point of Morrow. My work bff got it for me. The last album I purchased myself was Ghost by Radical Face. It's an older album, but Welcome Home, Son popped up on my Pandora and I loved it, so I bought the album so I could listen to the rest. It was a good purchase.
5. What was the last concert you went to?
The Coachella Valley Music and Arts Festival - Three days and five stages of amazing music in the desert!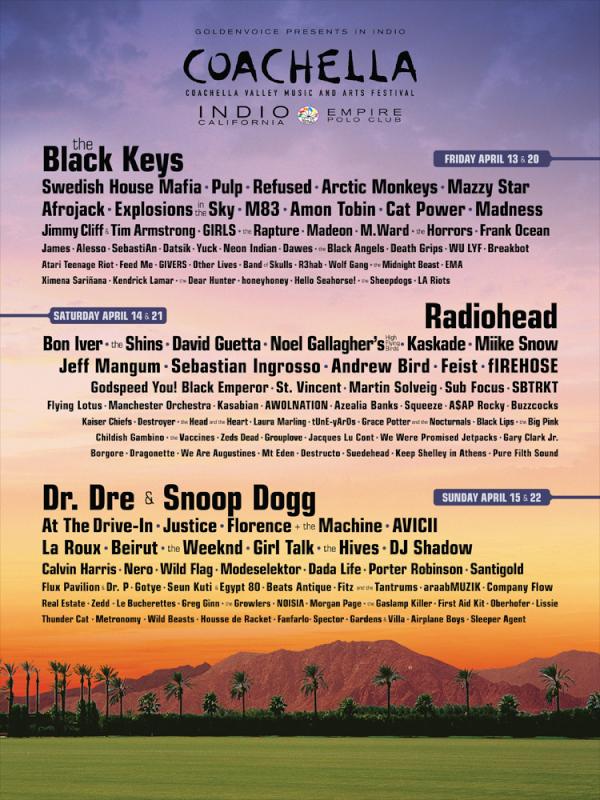 Of those bands I saw Bon Iver, The Shins, Manchester Orchestra, The Head and the Heart, Girl Talk, Florence and the Machine, M83, Radiohead, Arctic Monkeys, Lissie, AraabMUSIK, The Black Keys, Miike Snow, Dre and Snoop, and...probably way more that I'm totally forgetting. It was non-stop music, fun, and awesomeness the whole time.
Here are a few pictures...
Parking lot self-timer pic
A major highlight was Girl Talk's set. My work bff and I were up SUPER close and we danced like crazy the entire time. It was so much fun.
If you don't know what Girl Talk is all about, check out this video from Coachella. I was there in that crowd, but this isn't my video. Now imagine this going on for 45+ minutes. So. Much. Freaking. Fun.
And, of course, there was the debut of the Tupac hologram.
It was my first time at Coachella and it was a freaking BLAST. Music lovers' paradise, that.
6. What was the first album you ever bought?
The first album I remember owning (in cassete tape form, natch) was KICK by INXS.
7. What was the last single you downloaded?
Falling in Love at a Coffee Shop by Landon Pigg
. Another one that popped up on Pandora that I liked. This one reminded me of my WIP, so I wanted to put it on my WIP playlist.
8. Favorite artist or band?
I have three answers to this question, depending on the context or my mood.
(Just bought tickets to my 14th Incubus show this past weekend...can't wait!)
Brand New's album The Devil and God are Raging Inside Me is full of some of the most beautiful and poignant lyrics ever. (If you aren't familiar with Brand New you are probably scrolling back up to that picture I just posted and scratching your head. But I swear. If you don't believe me, listen to
Jesus Christ
.)
9. What's your favorite musical genre?
Uh...rock? Indie? A guy with a guitar? I don't know...I just like what I like. You can probably tell what that is from my answers to these questions.
10. Quote one of your favorite lyrics:
This has been the hardest question so far! Being a writer in love with words I am drawn to songs with beautiful lyrics. So many of the songs I have mentioned above have lyrics that I love to repeat over and over and write down and try to develop a story out of. (The idea for my last book came from a Brand New song, and the idea for my current project sort of came from a song by a band that I haven't mentioned on this post today. Heh.)
I haven't singled out an Incubus song, so here's one with some lyrics that I absolutely love.
In my fantasy I'm a pantomime
I'll just move my hands and everyone sees what I mean
Words are too messy and it's way past time
To hand in my mouth, paint my face white and try
To reinvent the sea one wave at a time
Speak without my voice
And see the world by candlelight
I ain't afraid to let it out
I'm not afraid to take that fall
But I've found beyond all doubt
We say more by saying nothing at all
In my fantasy no such thing as time
Minutes bleed into days, avant garde
Show me your heresy and I'll show you mine
We only speak in pantomimes on this carpet ride
I ain't afraid to let it out
I'm not afraid to take that fall
But I've found beyond all doubt
We say more by saying nothing at all
In my fantasy you look good entwined
In my hair and skin and spit and sweat and spilled red wine
You're my deep secret, I'm your pantomime
I'll just move my hands, I promise you'll see what I mean
So...is anyone else music obsessed out there?