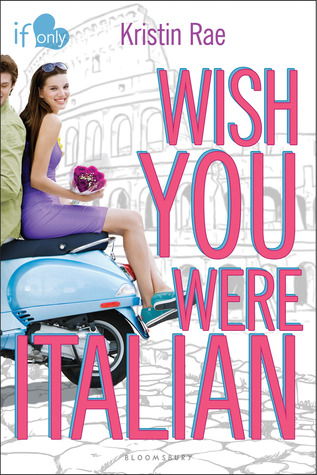 Pippa has always wanted to go to Italy … but not by herself. And certainly not to sit in art school the entire summer learning about dead guys' paintings. When she steps off the plane in Rome, she realizes that traveling solo gives her the freedom to do whatever she wants. So it's arrivederci, boring art program and ciao, hot Italian guys!
Charming, daring, and romantic, Bruno is just the Italian Pippa's looking for—except she keeps running into cute American archeology student Darren everywhere she goes. Pippa may be determined to fall in love with an Italian guy … but the electricity she feels with Darren says her heart might have other plans. Can Pippa figure out her feelings before her parents discover she left the program and—even worse—she loses her chance at love?
I've been lucky to do a lot of traveling over the past ten years or so. And if you ask me what is my favorite city I've been to...well, I have two answers. But one of them is definitely ROME. I fell in LOVE with the city of Rome, and I absolutely love everything about it. So when I heard that a contemp YA romance was coming out that took place in Rome, I just knew I had to get my hands on it right away. Because the only thing I love more than a good YA romance is one that takes place in one of my favorite cities on the planet! (Hello, ANNA AND THE FRENCH KISS!)
This is one of those books that will make you fall in love with the setting, if you've been to Italy in person or if you haven't. It captures the feeling of being there for the first time so perfectly - you really feel like you are on this trip with Pippa, and that's such a cool way to experience a book!
Pippa is a great character, too. She's brave and spunky and I love the way she pushes herself to try new things and explore. I can't imagine being that willing to put myself out there as a teen, so it was fun to walk in her shoes and see what it would have been like to have a little more guts.
And there is a great romance in this book, with several cute guys, lots of flirting, and so many fun, cute moments. *sigh* Oh, to have an Italian romance. I think I need to book a trip back to Italy. Uh...with my husband, of course.
If you love Italy or want to fall in love with Italy, this is the YA romance for you. Be sure you read it with gelato on standby for the full experience!
Check out what the other Bookanistas are up to...